About The New England Chapter
The New England Chapter is a non-profit organization dedicated to the study and preservation of the Pennsylvania Railroad (1846-1968) and the fellowship of its members. Though it was formed in August 2004 to serve Pennsy fans in all six New England states, we have members from nearly every state. We welcome members from anywhere with a love and respect for the Standard Railroad of the World.
Membership in the
PRRT&HS
is not required for membership in the chapter, but we strongly encourage it. The quarterly
Keystone
magazine is worth the price of admission.
PRRT&HS Membership Application
Chapter Meetings and Activities
We hold official membership meetings quarterly in different locations in the region to share the distance. The Chapter sponsors additional activities such as home layout visits, group railfan trips, and other events between meetings.
The East Wind
Our quarterly publication,
The East Wind
, is included with your membership. Back issues are available for sale.
Discussion Group
Dues
Annual dues are currently $15 payable by January 1 each year. Dues cover mailing and copying expenses for the club. Anyone living or traveling through New England is welcome to come to our meetings and check us out.
Credit Union Benefit
Members of the New England Chapter and their families are eligible to join DCU – Digital Federal Credit Union – and use all their banking, investment, and insurance services. For more information, visit the
DCU website
, send them an
email
, or call DCU at 800-328-8797 from 8 to 8 weekdays or 9 to 3 Saturdays.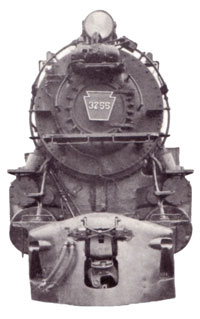 This PRR K4s shows off the modified front end seen in the post World War II years - fabricated solid pilot, headlight on top of the smokebox, generator on the front of the smokebox, and a platform to service it. Many railfans saw this as detracting from the pre-War look, but maintenance crews appreciated the safety and convenience.
PRR photo