New England Chapter News
Membership Growth
As of July 12, membership for
2017
is up to 603. Of this, 140 are renewals, 382 joined this year, 76 joined in the fourth quarter of 2016, and 5 are honorary. Of them, 74 are Society members. We encourage all our members to join
PRRT&HS
The East Wind Summer Issue
Volume 13, Number 4 was published on June 30. The issue covers the restored Lindberg Atlantic #460, an interesting 1930's photo at Washington Union Station, and Pennsy's Alco diesel switchers.
Your 2017 Membership Renewal was due before January 1, 2017
Renewal notices were mailed to members in mid-October. Please mark any changes on the form and return it in the envelope provided with your $15 check to continue your membership. If we do not receive your renewal check, your membership benefits will ended December 31. If you can't find your renewal bill, please contact Tim Garner at
t.a.garner@verizon.net
.
Upcoming Events
NEW DATE – July 22, 2017 – Summer Chapter Meeting
Wiscasset, Waterville & Farmington Railway Museum, Alna, Maine
We'll start with or business meeting and lunch at Chip Faulter's home in Phippsburg, ME at 10:00am, then head over to the WW&F Railway Museum in Alna, ME for a steam train ride and brief shop tour. Alna is north of Portland, ME. Read our
meeting flier
for details. If you plan to attend, please let us know by July 7. Visit the
wwfry.org
for more information about the museum.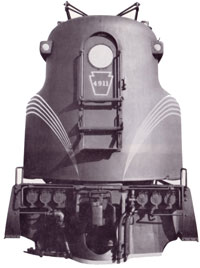 The PRR GG1 was arguably one of the finest electric locomotives ever built. Produced from 1934 to 1943, it was powerful, reliable, easy on track, and able to move trains at 100 miles per hour. It pulled passenger and freight trains well into the 1980's and many are saved in museums across the country.
PRR photo