New England Chapter News
Membership Growth
As of February 13, 2018, membership for
2018
is up to 483. Of this, 182 joined in 2018, 132 are renewals, 164 joined in the fourth quarter of 2017, and 5 are honorary. Of them, 75 are Society members. We encourage all our members to join
PRRT&HS
Membership for 2017 ended at 873. Of this, 141 were renewals, 651 joined this year, 76 joined in the fourth quarter of 2016, and 5 were honorary. Of them, 76 were Society members.
The East Wind Winter Issue
Volume 14, Number 2 was published January 4. The issue covers the PRR's experimental E2B, E2C, and E3B electrics, 1927 photos near Broad Street Station, and the PLB85R baggage-lounge.
Your 2018 Membership Renewal was due before January 1, 2018
Renewal notices were mailed to members in mid-October. Please mark any changes on the form and return it in the envelope provided with your $15 check to continue your membership. If we did not receive your renewal check, your membership benefits ended December 31. If you can't find your renewal bill, please contact Tim Garner at
t.a.garner@verizon.net
.
Upcoming Events
Chapter Meeting – Saturday, March 24, 2018
Rein's Deli Restaurant – Vernon, CT
Silk City Model Railroad Club – Manchester, CT
We'll meet at 11:15 a.m. at Rein's Deli in Vernon, Conn. for lunch and a brief business meeting. We'll caravan over the nearby Silk City Club at 71 Hilliard Street, Manchester, Connecticut for an HO-scale operating session beginning at 1:00 p.m. until at least 5:00 p.m. This layout in back of a hobby shop has a large model of Horseshoe Curve. The layout is DCC on the Digitrax system via JMRI. They have wireless throttles we can use or, if you have a smartphone with WiiThrottle or EngineDriver, they can connect you to their WiFi so you can use it. Make sure any locomotives you bring are de-consisted. Don't have models to bring? Someone will bring PRR models you can operate. See our
meeting flier
for details and directions. This will be our fourth visit to the club – the first in September 2005.
50th Anniversary Inspection Trip to Annual Meeting – Depart May 9, Return May 13, 2018
Philadelphia to Altoona and Return
Train departs 30th Street Station, Philadelphia, making station stops at Paoli, Lancaster, Harrisburg, and Altoona on Wednesday, May 9. Returning to Philadelphia after a farewell brunch on Sunday, May 13, making station stops at Harrisburg, Lancaster, Paoli, and 30th Street Station in Philadelphia.
Seating limited to 100 passengers traveling in 5 parlor cars with food and beverage service aboard. 96-page illustrated route guide, special onboard guest souveniers, and a special passenger-only Sunday pre-departure brunch.
Round trip fare – $1,000 per person, payable to the PRRT&HS. $300 deposit with your reservation. $700 balance due March 30.
Mail your deposits to:
STEVE STAFFIERI
PRESIDENT PRRT&HS
2963 COLUMBIA DRIVE
BENSALEM, PA 19020
May 9-13, 2018 – 50th PRRT&HS Annual Meeting
Blair County Convention Center – Altoona, Pa.
The 2018 Annual Meeting will be a four day event with an "optional" train trip leaving from 30th Street Station Philadelphia to Altoona. The train will leave on Wednesday May 9, 2018, returning on Sunday May 13, 2018 and will include a trip around Horseshoe Curve. This trip will be restricted to 250 passengers and will be available thanks to the generosity of Bennett Levin and his equipment. More information will be available soon.
Our annual meeting location is the Blair County Convention Center in Altoona PA. Due to the size of local hotels the Society has "blocked" rooms at four locations. There will be shuttle buses, courtesy of the PRRT&HS, running to all three outside hotel locations, to and from the convention center. All hotels have handicapped rooms available.
We would advise making reservations ASAP as this annual meeting will be a record breaker! Naturally, other rooms are available outside of our PRRT&HS "block" but the special price will not be offered.
Holiday Inn Express– (814) 693-1441 – $124.00 + tax
This hotel is less than a block away and is only one year old. Free buffet breakfast. There are 40 rooms blocked until 4/09/18.
Altoona Grand Hotel – (814) 946-1631 – $80.00 +tax
This hotel is half a mile away and is the best bargain! There are 50 rooms blocked until 4/09/18.
Hampton Inn– (814) 941-3500 – $129.00 + tax
Less than one mile away. Cracker Barrel and sports bar on location. There are 30 rooms blocked until 4/11/18.
Courtyard Marriott Altoona – (814) 312-1800
This hotel has a direct connection to the convention center. Rooms at special rates SOLD OUT.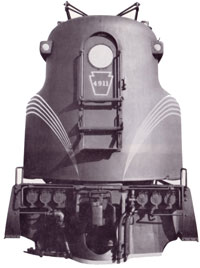 The PRR GG1 was arguably one of the finest electric locomotives ever built. Produced from 1934 to 1943, it was powerful, reliable, easy on track, and able to move trains at 100 miles per hour. It pulled passenger and freight trains well into the 1980's and many are saved in museums across the country.
PRR photo