Railroad Sound Files
Below are links to various recorded sounds of PRR equipment.
Penn Central Metroliner Sounds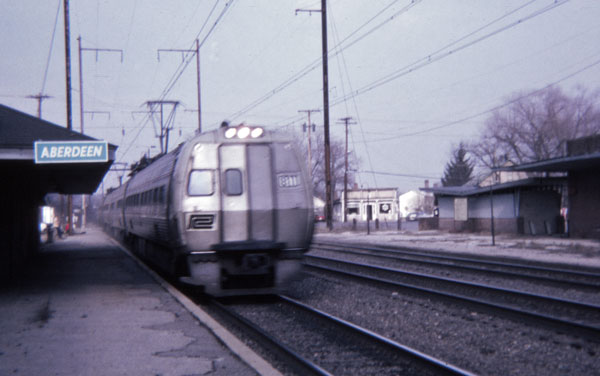 Amtrak Metroliner in Penn Central garb at speed westbound in Aberdeen, Maryland on February 16, 1976.
Tim Garner recorded these sounds of Penn Central Metroliner trains at over 100 miles per hour around 1973 with a battery-operated cassette recorder when he was in high school. "Thanks for the ride, mom." The Metroliners were built for the PRR by Budd with General Electric or Westinghouse propulsion equipment. Before they entered service, PRR became part of the Penn Central merger. The location was the western end of the former PRR Bush River Bridge near Edgewood, Maryland. The horns you hear were the enginemen warning Tim to get away from the tracks. There were no railroad crossings in this area.
The Metroliner horn is unlike any other. It screams "Get out of the way! I'm coming fast!" At this time, the Northeast Corridor still had a few highway crossings left and these trains were fast. The second Metroliner on the last train has a defective horn that sounds more like a peacock.
The files have been converted to MP3 format.