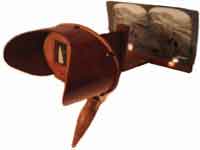 PRR Stereo Cards
Stereo cards were the popular predecessors to the 3-D View Master viewers many of us remember as kids. Stereo cards grew in popularity during the Civil War and were widely available untile the Great Depression. Railroads were vitally important in these years and often showed up on stereo cards. Patience and regular visits to antique stores can turn up rare railroad subjects – some over 100 years old. And look outside of Pennsy territory. The PRR views shown here turned up in Scottdale, AZ, Searsport and Portland, ME, and Cape Cod shops. All were purchased for $1 to $12 each. Click on the images for a larger view.

Horseshoe Curve, Pa.

Horseshoe Curve, Pa.

Lewistown Narrows, Pa.

Eagle Station, Pa.

White Hall, Pa.

Stewart's, Pa.

Philadelphia, Pa.

New Brighton, Pa.

Rockville, Pa.